NIIFT is proud of its illustrious alumni occupying significant positions in leading national and international organisations. The alumni have supplemented the growth of this industry by contributing their expertise in the core levels. Over the years, they have shouldered the responsibility as Entrepreneurs, Quality Controllers, Designers, Merchandisers, Fashion Forecasters, Production Managers and Coordinators, Sourcing and Buying Agents and Faculty in other institutes. The institute regularly corresponds with the Alumni Association and invites the members for regular interaction with the students
NIIFT Alumni Association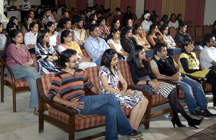 The alumni association of any institution is a dynamic link between its past and present. In an endeavor to provide a platform for the alumni to share their expertise and knowledge, and forge an enduring relationship with their alma mater, the NIIFT Alumni Association was set up in April 2005.

An active NIIFT Alumni Association strives to achieve the following objectives:
To promote and foster mutually beneficial interaction between the alumni and present students of NIIFT, and within the alumni network itself.
To encourage the alumni to take an active interest in the work and progress of NIIFT so as to contribute towards enhancement of their alma mater.
To organise and establish scholarship funds to help the needy and deserving students.

To interact closely with the industry and the Institute in order to make NIIFT education responsive towards industry needs and technological advances.

To institute prizes and awards for outstanding project work, research paper or other professional activity by NIIFT students, and also suitably recognise outstanding social and community service by the alumni and students.

To undertake or organise activities of a civic, charitable or promotional nature.


ANU KAMA

The Final Collection is a virtual reality of the hard work and toil of our students and the faculty who have put in their time, energy and inspiration. The collection encapsulates the technical accomplishments , the creative flair and the philosophy behind the concept and the designs. are indeed objects of art.concept and the designs.