The Governing Council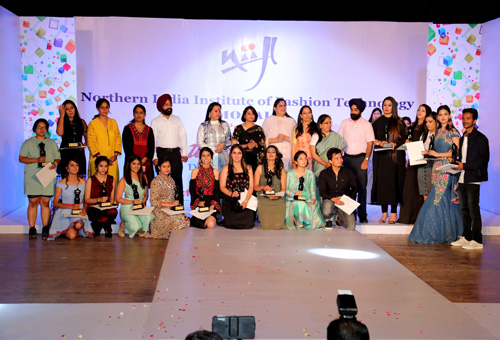 The institute functions under the overall guidance of the Governing Council. The Strategies and long term policies of NIIFT are framed, progressively updated and monitored by a team of eminent celebrities, specialists and senior government officials. The overall direction and support provided by the governing council of NIIFT has helped us sustain the highest standards of education.
The Governing Council consists of:
CHAIRMAN
Shri. Tejveer Singh, IAS
Principal Secretary ,Department of Industries & Commerce, Punjab 

MEMBERS
Sh. Ajoy Kumar Sinha, IAS
Principal Secretary Finance, Punjab
Sh. Puneet Goyal, IAS 
Director, Industries and Commerce and 
Director General, NIIFT.
Ms. Kanu Thind, PCS
Joint Director (Administration)
Department of Industries & Commerce
Director, NIIFT
Sh. Mahesh Khanna
Industrial Advisor & Joint Director Technical , Textile Officer(Handloom)
Department of Industries and Commerce, Punjab
Sh.Munish Bagrodia
M/s Winsome Yarns Ltd., Chandigarh
Sh.Akhil Succena
Activity Chairperson,Ghandhinagar
National Institute of Design,Paldi, Ahmedabad
Sh.Rajinder Gupta
M/s Trident Group of Industries , Ludhiana.
Sh. Sudhir Dhingra
M/s Orient Crafts Ltd., Khandsa,Gurgaon.
Sh. Rahul Khanna & Rohit Gandhi
Fashion Designers, New Delhi
Sh. Vikram Sehgal
M/s Om Shanti Lane, Verka Majitha Bye Pass
Amritsar

THE ADMINISTRATION
Ms. Kanu Thind, PCS
Joint Director (Administration)
Department of Industries & Commerce
Director, NIIFT

Ms. Kanwarpreet Kaur
Registrar, NIIFT

Sh.Deep Singh Gill, PIS
Registrar, NIIFT,Jalandhar

Sh.Rakesh Kumar Kansal
Registrar, NIIFT,Ludhiana

Ms. Neelam Ghumman
PS To Director
Mr. Ankush Singh Sipayya
Accounts Officer

THE ACADEMICIANS
Faculty Detail
CV-faculty/Staff
Staff Detail

Dr.Poonam Aggarwal Thakur
Principal, NIIFT Mohali & Ludhiana
Ph.D in Fashion and Textile Technology
MSc. (Clothing & Textiles)
Gold Medalist, Diploma in CAD, Advance Diploma in
Garment Exports & Marketing Mgt.

Dr. Simrita Singh
Principal, NIIFT Jalandhar
HOD-Fashion Design Deptt.
Phd in Design and Fine Arts, M.A. History of Art , BFA (Applied Art) fom Punjab University

Dr.Deepti Sharma
Assistant Professor
MA Sociology, MA (Hindi Literature),B.Ed., M.Ed, P.G. Diploma in Knitwear Design and Technology
Masters in Knitwear Design and Technology, NIFT, Delhi.

Dr. Meeta Gawri
Assistant Professor
Masters in Fashion Technology, NIIFT , Delhi
MA Sociology, PGDBA( Marketing Management) Symboisis,Pune
Ph.D from Punjab University

Mr.Ajay Singh
Assistant Professor
B.Sc (Computer Science)
Post Graduate Diploma in Computer Application(PGDCA)
Masters in Computer Applications(MCA)
Dr.Shweta Sharma
Assistant Professor
Masters in Design(Textile) from NIFT, New Delhi.
Ph.D from Punjab Univesity.

Mr.Kamaljit Singh Rana
Assistant Professor
ME(Manufacturing Technology), PU, Chandigarh
MBA (Production & Operations Management), MDU, Rohtak.
Pursing Ph.D (Production and Industrial Engineering) from PEC, Chandigarh.

Ms. Navdeep Kaur
Assistant Professor
BA, Punjab University, Chandigarh
Diploma in Fashion Design from NIIFT, Mohali
MBA from PTU
Ms. Rajwinder Kaur
Assitant Professor/Course Coordinator (FD Department)
MA (Fine Arts), Punjabi University,Patiala
B.ED, UGC NET(Fine Arts)

Mr. Harpreet Singh Bhatia       
Assistant Professor/Course Coordinator (FDK Department)
B.Tech (Textiles), NIT Jalandhar

Ms. Ramanpreet Kaur    
Assistant Professor
M.Sc Fashioin Tech.
2 year Diploma in Fashioin Design

Ms. Navneet Suman
Assistant Professor
Diploma in Fashion Design from NIIFT, Mohali
MBA from PTU
Ms. Honey Sharma
Assistant Profesor
M.Sc Fashion Technology, PTU Jalandhar
Two Year Diploma in Cutting,Tailoring and Embriodery,PSBTE &IT
Teacher Training ,PSBTE &IT

Ms Ruchi Chopra
Assistant Professor
M.Sc Fashion Technology
PG Diploma in Fashion Designing
PG Dipoma in Textile Designing

REGIONAL COUNCIL , LUDHIANA

Sh. Manish Beri
M/s V.B. Enterprises

Sh. Sunil Arora
M/s Blue Moon,Ludhiana

Sh. Manuj Jain
M/s Sarjeevan Knitwears
Sh. Rohit Sagar
M/s Gopal Knits

REGIONAL COUNCIL , JALANDHAR
Sh. Rajneesh Kumar
M/s Just Sports

Sh. Ravi Gupta
C/o Modi Textiles,

Sh. Vikas Nayyar
Basant Avenue, Amritsar
Sh. Pushp Kohli
M/s Beat All Sports
Industrial Area, Jalandhar


ANU KAMA

The Final Collection is a virtual reality of the hard work and toil of our students and the faculty who have put in their time, energy and inspiration. The collection encapsulates the technical accomplishments , the creative flair and the philosophy behind the concept and the designs. are indeed objects of art.concept and the designs.